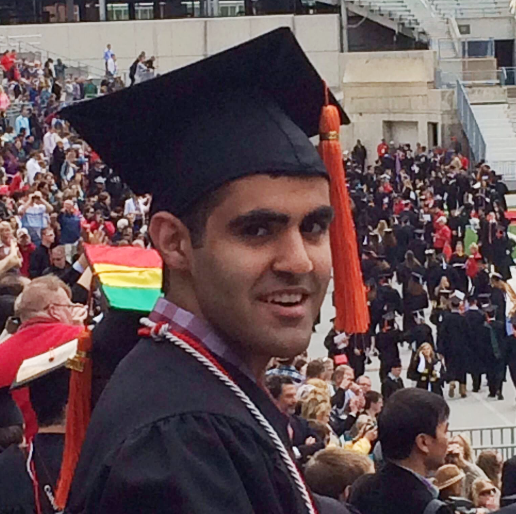 The Story
This scholarship exists to honor the memory of Omid Behbahani, son of our dear friends Negar and Alireza Behbahani and brother of Tara Behbahani.
Omid Behbahani was born and raised in Cincinnati, Ohio. He was a true Buckeye who took pride in his family's legacy, following in his father's footsteps when he graduated from Ohio State University.  Academically, he was always a high achiever with dreams of one day working in corporate America.  Omid was finally able to pursue this dream when soon after graduation the H.J. Heinz Company offered him a position.
Omid applied the same energy in all spheres of life, academic, personal and professional, acting as an example for all those around him. His colleagues praised him for his generosity, creative mind, determination and contagious personality.  His family remembers his calm, responsible, selfless and collected nature. Omid was passionate about his family and friends and his laughter and positive thinking brought light into many others' lives. Omid touched everyone's heart by donating his organs after his tragic car accident in December 2014. The generosity of this donation is a reflection of Omid's lifetime values, and he would be proud to know that this scholarship exists in his name to help other Persian Americans with the same dreams and values he had.
This scholarship serves as a lifetime reminder of Omid's kind, giving personality that continues to reach out to others. It is our hope that these scholarships help the recipients to fulfill the glorious life that Omid embodied.
It is our honor to announce that PACS, the Persian American Cultural Society is now accepting applications for the Omid Behbahani Scholarship for Fall, 2023. As a reminder, this scholarship is available to all Iranian-American students who submit the complete application within the required timeline noted in the application.  All eligible applicants will be reviewed by the scholarship committee members for selection, and PACS will award the nominees prior to the beginning of the school year. The application deadline is September 22, 2023.
Please be sure to follow the application process as required.   If you have any questions, please do not hesitate to contact us via email at (cincypacs@gmail.com).
Please feel free to forward this to your Iranian-American friends and families.  If you wish to donate toward the scholarship, please visit our website https://cincypacs.org/scholarships/ or contact us via email.
Kind Regards,
PACS
Persian American Cultural Society
For questions regarding scholarship or other concerns you can contact us here.